Bianca Anastasia - Crossfit & healthy lifestyle

 I think the first step is to be confident in yourself and know your body.
Sometimes we get frustrated because we want to look like certain models/athletes
but we all have a different body and what matters is to feel good with what we have.
In my case, if I'm not happy, I ask myself, what should I do or what should/would like to change?
And then I start focusing on that.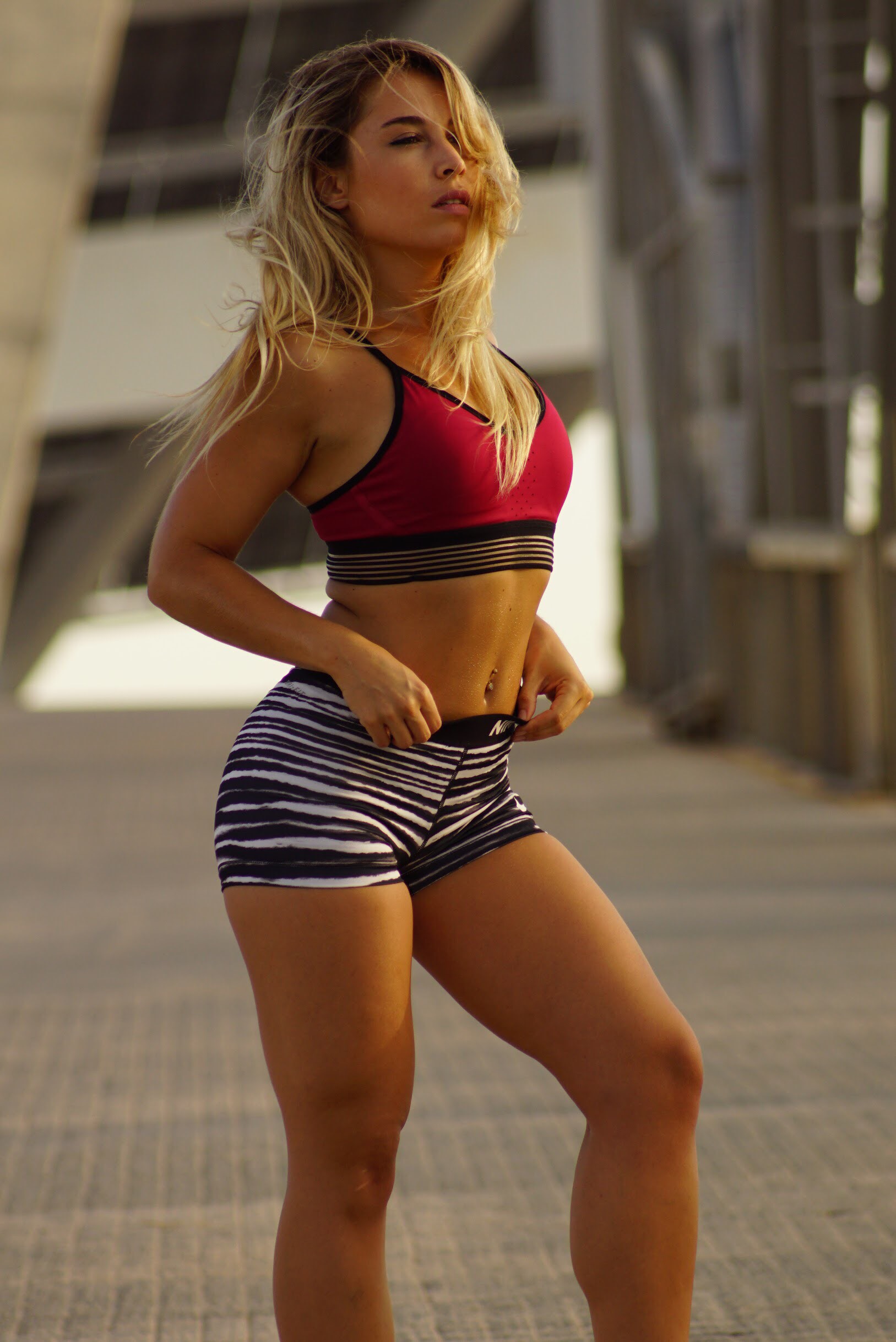 1. Can you tell us about your roots, about growing up? 
I am half Italian, half Spanish, my Italian family moved to Barcelona in the 80s, my Grand Father founded a really renowned Italian restaurant there and my aunt and mom used to travel to Barcelona to help him, attend Spanish courses until they fell in love with the city, its culture and of course with Spanish men! I have lots of great and sweet memories from the restaurant, my grandpa and granny,  I've spent a lot of time there because my aunt and mom used to help until late at night. Then my mom started working in Fashion, which was her real passion. I discovered this world through her and I loved it in every sense!
2. What was your childhood / teenage dream? What did you wanna to become? 
When I was little I used to dream of being a singer, I love music, all kind of music and also discovering new styles, bands...I was always singing all the time, I used to ''do concerts'' to my family or friends who came to our restaurant and I was very sure of myself! But that was a long time ago! Moreover, I always felt the need of doing things, I couldn't stay quiet and my poor granny and mom were desperate because of my endless energy let's say. They thought that doing some sport would help me and them, of course, haha and I tried dancing, swimming, tennis...They all were okay but none of them convinced me. After a  bit I discovered fencing and I played professional fencing for more than 7 years. I used to do regional and national competitions and this took most of my time. I loved it but growing up, I discovered and developed other passions such as Fashion, I've started buying Vogue every month since I was years old and this made me dream about working for a Fashion Magazine or organizing Fashion Shows...I wanted to get there! It was hard to keep a high level of sports practice and studies so I decided to focus more on my career and leave fencing.
3. Any idols during the teenage period?
Oh yes, The Gallagher brothers from the British band Oasis (and I am still a big fan haha), Kate Moss, Claudia Schiffer (this was from the influence of my mom when I was little).
4. When did you start with modeling? Can you recall your first photo session? 
I started when I was 16 years old since my mom worked Fashion, she had lots of contacts and I did some shootings and then I've worked as a model for Showroom presentation, special events,... I also participated in a Beauty Contest... I always had a lot of fun!
5. When it comes to modeling, what is your favorite style? 
It's a bit hard for me to choose a style because I love many different ones and moreover, I always like to try new ones and I am also open to hearing about projects that photographers have in mind if they're original and Interesting! Anyways, some of my favorites would be fashion photography, street style and also boudoir. I feel very comfortable when I am in front of a camera and I always like to immerse myself with each style.
6. Do you like to be in charge when it comes to your outfit or do you let it to the photographer/brand? 
Yes I do like it and I prefer it because I know my body and I like to feel completely confident and free during a shooting, when you feel like this, the results are always great; but I am also open for their advice, sometimes I was not convinced about some ideas they had but the pictures surprised me in a really positive way and I loved them so never say never!
7. Crossfit. Tell us more about that - how did you start with it, is it only for staying in shape or you do competitions too? Also, can you describe to our readers how it looks like one of your training?   
After quitting dancing, I signed up for a gym but it was so boring for me! I was used to competing all the time and I needed something more spicy, challenging and competitive. I discovered Crossfit and at the beginning, I was a bit unsure, I thought it was too rough and many people said that it was something "for the boys" and I said, f*** it! I'll give it a try, then If I die, I will die but at least I can say I've tried (and I loved it!!)
It's a really complete sport, It's a mix of weightlifting, gymnastics, functional training and cardio. I also love it because it is perfect to work on all the parts of your body; Actually, the workouts change every day. There's always a warm-up, another part where you practice a few strength and some elements that you will carry out in the end and finally you have the workout. I
8. Crossfit is very popular in California. Los Angeles is full of Crossfit places. Is there any difference when it comes to the European and American way of Crossfit? 
I think that in California there's a higher level and there isn't a lot of prejudice for women practicing Crossfit, here there are still lots of people, including women that see it really masculine or they're afraid of becoming beasts after doing it but it's growing a lot here too so I am sure that this will change soon :) Oh and I can't wait to go to Cali and visit some Crossfit Boxes there!
9. You are a brand ambassador for a "Born Primitive" clothing brand. Let's promote them too. How did your collab start? 
It all started thanks to a connection from a friend because Born Primitive had plans to launch their website in Europe and be more connected close to the European Market. They have lots of Brand Ambassadors throughout the world and they're doing an amazing job with all the collaborations they do, their innovative launching of new products and styles...
10. A lot of young girls have problems when it comes to self-confidence because they have weight issues.  What would be your advice when it comes to first steps getting into the shape? We all know that Crossfit is not all about looking fit, it is also a very healthy way of life. 
First of all, I think the first step is to be confident in yourself and know your body, sometimes we get frustrated because we want to look like certain models/athletes but we all have a different body and what matters is to feel good with what we have; and in my case, if I'm not happy, I ask myself, what should I do or what should/would like to change? And then I start focusing on that. 
11. Food?
I agree that Crossfit, in general, is also about carrying a healthy lifestyle and for me at least it is important not only to stay in shape but also to be stronger and feel more energetic when I'm working out. Nevertheless, I never say no to dessert and I am Italian so...Pasta and Pizza are on the top 10 of my diet haha!
12. plans for the rest of 2018/19?
I have lots of expectations in growing in my company, we are expanding now and I have a really good feeling 😊 I have new shootings coming up really soon and I want to build my own website/portfolio so I can share there all the shootings and collaborations that I do! I also want to travel more (I'm already working on that ;) and for the rest...Let's see what happens, I am positive and excited to see what's next!
13. Social media accounts so people can see your work.